POS-n-go Android POS Manual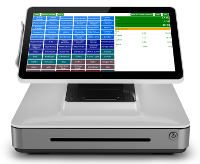 We strongly recommend that you connect your Elo PayPoint using a wired Ethernet network cable. No network setup is required for a wired connection. If this is not possible WiFi can be used instead.
Briefly press both the home and power buttons located on the back of the tablet at the same time to display the Control Panel then enter the password 1elo and select OK.
Select Network on the Elo Control Panel.
Select your Wifi network name. If you are using a POS-n-go router it is posngo.
Enter your Wifi password then select Connect. if you are using a POS-n-go router it is dinamikos.
Verify that a green checkmark is displayed beside your network indicating connected.