POS-n-go Android POS Manual
Email Templates is used to design receipts, account statements, booking confirmations and online order confirmations that are sent by email.
Email Templates are configured in the web portal, Advanced Setup, Email Templates.
To add a template select the Add button.
To make changes to an existing template select the Edit button.
To enable email receipts for your device set the Email Receipt Prompt to On in the General section of Basic Setup, Devices, Device Settings.
Booking and online order confirmations will be sent automatically if the online features are used.

You cannot delete an email template but you can deselect the Active checkbox to deactivate it.
The only mandatory field for a template is the Template Name.
The Template Type drop down allows you to select Account, Booking, Campaign, Order or Receipt.
The Design Template button launches the template designer.
The View Test Email button allows you to view a sample of what the email will look like.
Ensure that only one template is active for a particular template type.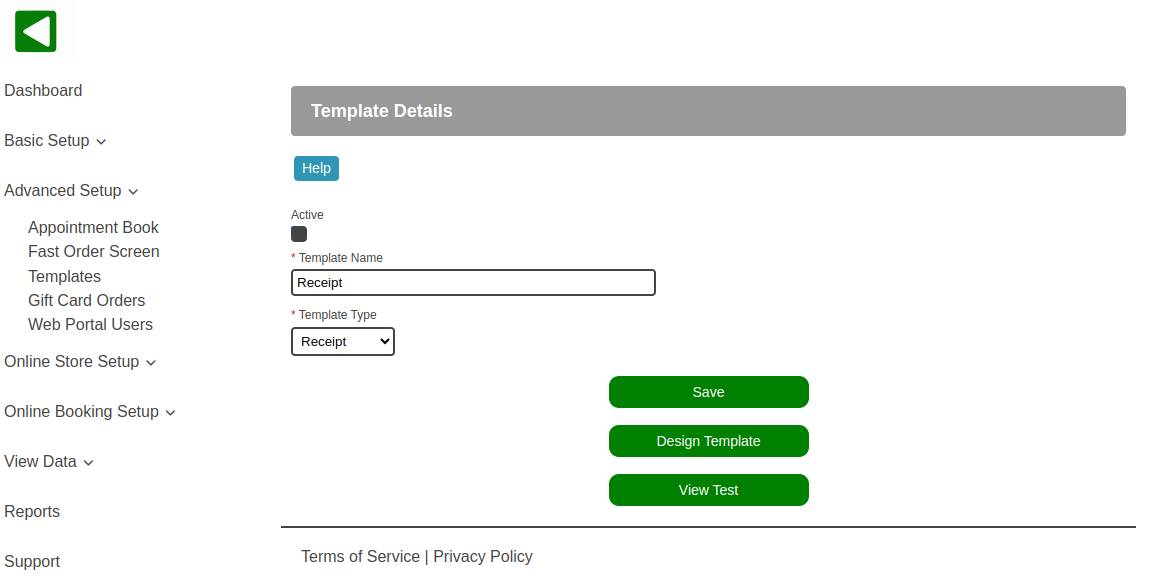 Add design blocks from the left pane to your template.
After adding blocks that include an image select the Upload button on the image placeholder to add your image.
Only use PNG and JPG image formats for the image blocks.
Ensure that you select the Save button at the top right of the designer to save your template.
Ensure that you include the POS-n-go Details block for Account, Booking, Order and Receipt templates.