POS-n-go Android POS Manual
Products are configured in the web portal, Basic Setup, Products.
To add a product select the Add button and it will bring you to the Product Details page.
To view active or inactive products select the View Active/Inactive button.
To make changes to an existing product select the Edit button.
The Import button allows you to import a list of products in CSV format.
The Export button allows you to export the list of products in CSV format for a spreadsheet.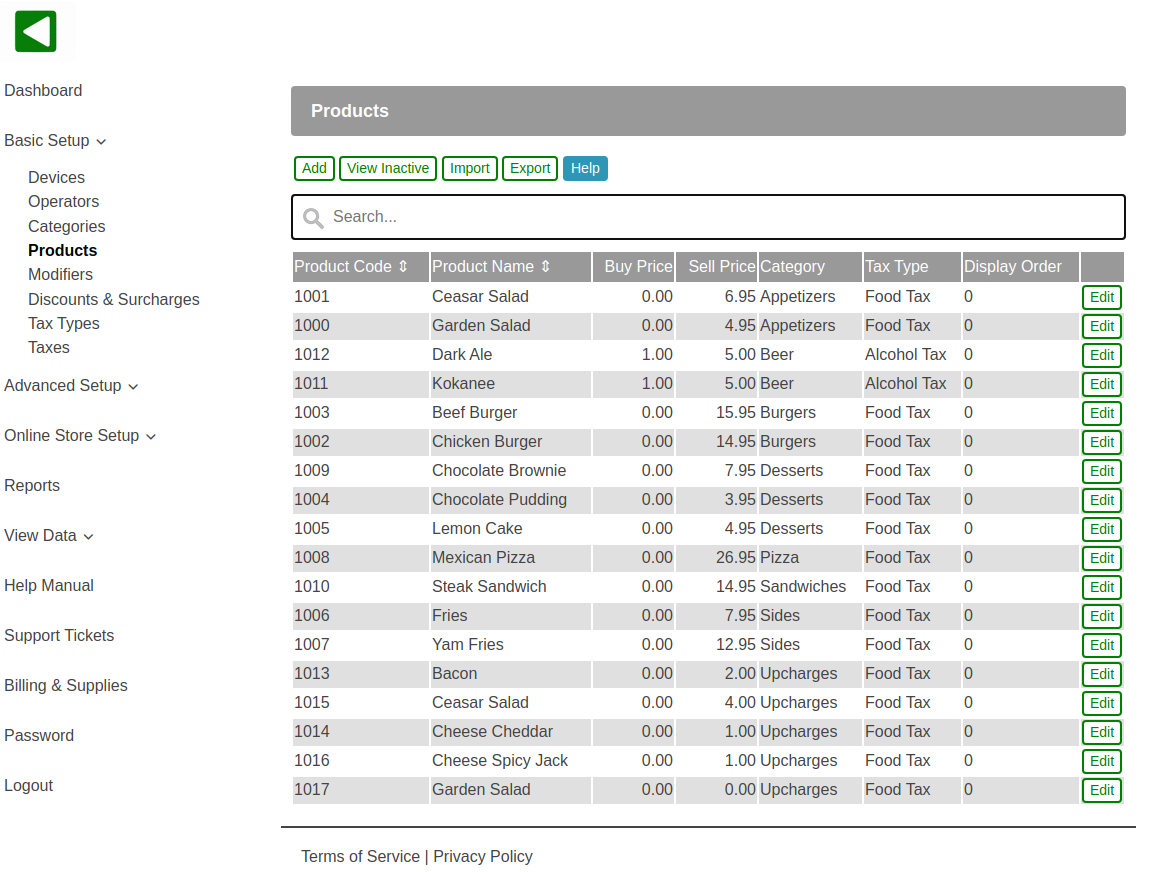 You cannot delete a product but you can deselect the Active checkbox to deactivate it.
The mandatory fields for a product are the Product Code, Product Name, Buy price (may be left set to zero), Sell Price, Category and Tax Type.
The Product Code allows you to look up items by code or use a barcode scanner. If you are using a barcode scanner you will want to use the barcode number labeled on the product. If you do not use a barcode scanner or other preset code then the system will generate a code for you.
To print the product code on receipts set the parameter Print Item Codes to On in the Receipt Printers section of Basic Setup, Devices, Device Settings.
Product Name is printed on customer receipts. It is also used when you search for products by name.
Buy Price may be left at zero but if set it will provide insight into your average profit. The Buy Price will also display a warning if you sell an item below cost.
The Sell Price is what the customer will pay for the item.
Category is the field that you use to link a product to a specific category for reporting.
Tax Type is used to set the tax category for the item you are selling.
Attribute is optional. It is used for products with serial numbers or products that need to be weighed. The Serial Number option will prompt for a serial number when the product is added to an order. The Weight Scale options will prompt for a weight when the product is added to an order and the Sell Price, measured weight and selected unit weight will be used to calculate the item price.
Display Order allows you to optionally override the alphabetical order. We recommend that you use increments of ten (10, 20, 30...).
The Modifiers section is typically used by restaraunts when a product has selectable modifiers or add-ons. This section is only visible if you have created modifier groups.
The Suppliers section is typically used by retail businesses. This section is only visible if you have created suppliers.