POS-n-go Android POS Manual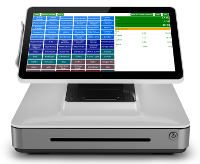 This procedure will permanently delete all POS-n-go orders from your device.
Perform an End of Day to upload your transactions before deleting the application data.
Follow the instructions carefully. Do not uninstall the POS-n-go application.
Briefly press both the home and power buttons located on the back of the tablet at the same time to display the Control Panel then enter the password 1elo and select OK.
Select Apps.
Select Settings.
Select Apps then select the POS-n-go application from the list.
Select Storage.
Select Clear Data.
Select OK on the confirmation screen.