POS-n-go Android POS Manual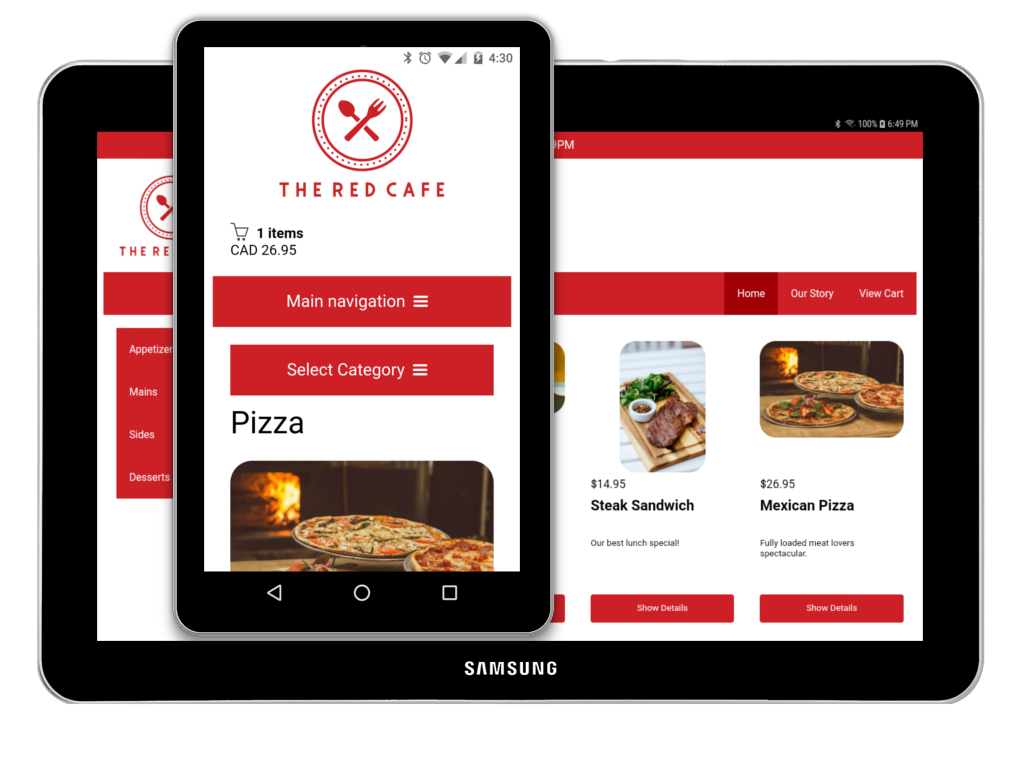 The POS-n-go restaurant online ordering and retail online store is included at no additional cost. You can make a subset or all of your items available online. Our online functionality leverages your existing category, product and modifier setup. Selling online is as easy as adding an image and brief description for your products. Your sales and inventory are tracked the same way as for in-store.
Our online template is a leading design using the latest responsive technology that dynamically adapts the layout for phones, tablets and computers. Custom brand your site with full control over colours, logos, banners, announcements, custom web pages and more.
Choose if you want to accept payments online with our integrations to Elavon, Nuvei and Stripe, or take payment in person through your existing payment solution. Our flexibility enables significant cost savings compared to other solutions that force you to use their payment processing.
When someone places an order online you will be notified by email. You can optionally enable automatic printing of online orders on your existing in-store hardware. You can also view and manage online orders in real-time through your in-store device or the POS-n-go secure web portal.
Depending on how many products you want to sell online, you can be live in a couple hours! You can create a button on your Facebook page linking to your online store. Run an Instagram promotion with a button link. Send a POS-n-go email campaign. Add a link to your existing web site. Embed online ordering within your site. You can even purchase a custom domain name and point it to our servers and have your online store be your entire web site! We support an unlimited number of custom web pages to get your message out.
You can customise the order process to take advantage of individual item special instructions, a custom checkout prompt to capture date, time or other text information, as well as control the customer information collected. Capture as little or as much information as you need.
Retail shops can also customise shipping options included free shipping, threshold based fixed rates and real-time integrated Canada Post cost based on weight and dimensions.
Canada Post commercial shipping estimates require you to open a no cost Canada Post online account. More information can be found at canadapost.ca. You will also need API keys through the Canada Post Developer Program. Join at canadapost.ca/developers. If account number and API credentials are not configured then Canada Post counter rates will be used.
Your online store can be accessed through the posngo.com/shop/ domain or you can optionally purchase your own custom domain name such as mybusiness.com. Please open a support ticket to start this process.
You can use our online ordering and online store demonstration sites.
Online Ordering
The Red Cafe
Online Store
Vintage Apparel Company

Upload your business logo to Online Store Setup, Logo & Images.

In Online Store Setup, Settings set your Store Name and select your Logo Image. Select Save.

In Online Store Setup, Products add a few products. Provide a brief description and image for each.

In Online Store Setup, Settings use the View Online Store button to view your store.

In Online Store Setup, Settings custom brand your site in the Styling section. You can also add an announcement banner, links to your social media and customise the checkout flow in the General section.
If you choose to take payment at your business location set the Processor to None. When you receive an online order you can transfer it to your local device and take payment as usual.
If you choose to take payment online set the Processor to your desired payment processor and Currency to your desired payment currency. You will also need to configure the Credentials to the values provided by the payment processor.
Elavon UK - This processor is used in Europe. The credentials should be set to MerchantID,Account,Secret. Obtain the credentails from the processor.
Elavon US - This processor is used in North America. The credentials should be set to MerchantID,UserID,PIN. Obtain the credentails from the processor.
Nuvei - This processor is used in North America. The credentials should be set to TerminalID,Secret. Obtain the credentails from the processor.
Stripe - This processor is used globally. The credentials should be set to PublicKey,SecretKey. Obtain the credentials in your Stripe online account, Developers, API Keys.
When processing payments through Stripe you can use your Stripe test keys instead of your live keys. Simply update the POS-n-go Online Store Setup, Settings, Credentials setting to the test version of PublicKey,SecretKey.
Example: pk_test_ByVOmplHZCdXHdfnJAFUAXwk,sk_test_SignWUyWZSjO4X9tkWg8Eept
You may use the following test credit card with your Stripe test keys:
Number: 4111 1111 1111 1111
Expiry: 12/25
CVC: 123

Ensure that you select Void Order in View Data, Online Store Orders when testing. If you select Complete Order it will impact your sales and inventory.