POS-n-go Android POS Manual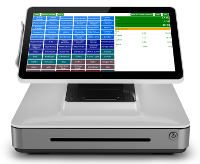 Intall on the Elo PayPoint Plus is identical to the Elo PayPoint with the exception of additional scanner setup.
Select Apps on the Elo Control Panel.
Select Advance Peripheral.
Select Scanner.
Enable Advanced Mode.
Select Turn On.
Scan the barcode below. Alternatively you can print this barcode (USB COM Port Emulation) on the Elo in Apps, Peripheral Test App, Printer.