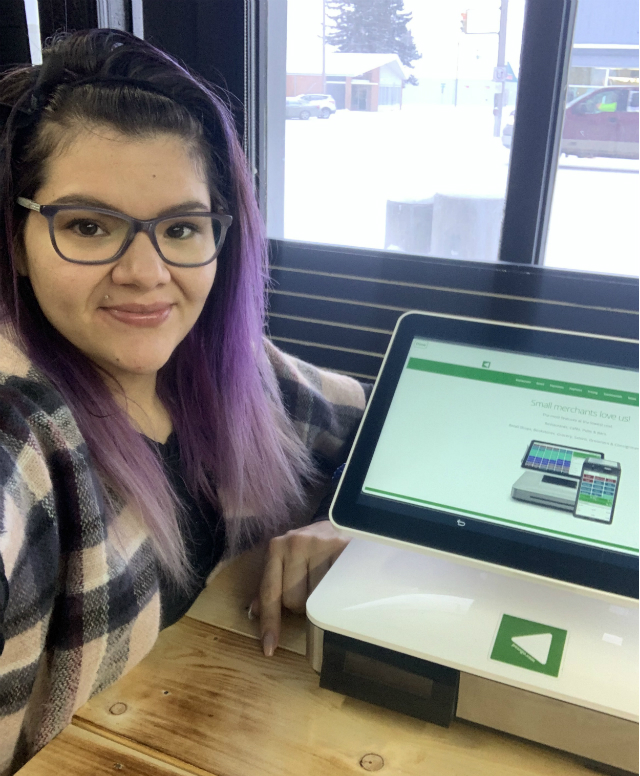 An entrepreneurial spirit runs strong in this young woman, "I've always dreamed of owning my own business, it was now or never," said first-time business owner Shauna LaChance.

She made that dream happen this past December when she opened Sky Hiigh Apparel (yes, it's two eyes) in Meadowlake, Saskatchewan. She was "nervous about the unknown", but stuck to her plan and kept things moving forward.

LaChance decided to focus on men's and women's clothing and accessories.

Currently in stock, a great selection of sweaters, jackets, jeans, ladies leggings, t-shirts, tank-tops, hoodies, and hats. Her featured items right now are Crooks & Castle vests, red or white, and True Religion jeans.

LaChance selected POS-n-go for her point-of-sale system. It runs on a sleek, elegant all-in-one Elo PayPoint electronic cash register. North American Business Solutions provide merchant services.

"I like POS-n-go, it's easy to figure out and use," LaChance said. She likes the customer management feature of POS-n-go. She is in the process of implementing the loyalty points program and gift cards. "Down the road, I'll be using the online shopping feature as well."

Congratulations Shauna on your new business venture.

The Sky Hiigh grand opening will be sometime in mid-February. LaChance said, "Keep checking Facebook for the exact dates. We'll have amazing sales, door prizes and snacks!"

Drop-in and view the great clothing at Sky Hiigh Apparel, 132 Centre Street, Meadowlake, Saskatchewan. Stay up to date on Facebook, @skyhiighapp.