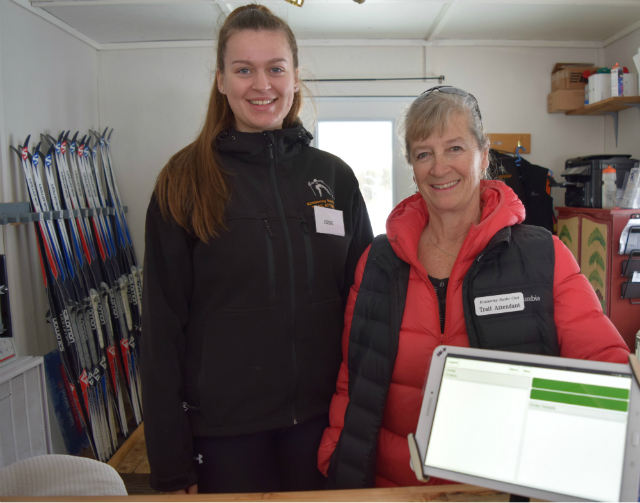 Everything for an active outdoor lifestyle plus off the charts health benefits.

Did we mention the great people, volunteers and Board of Directors, the whole team keeps everything sliding all season long. The only thing they can't do is make it snow.

Over 30-years, the Kimberley Nordic Club (KNC) has grown from one trail and a small one-room lodge, now used as the waxing hut, to a formidable recognized Nordic club in western Canada and beyond. The KNC now has 30 km of groomed trails for all levels of skiers. Plus 10 km of snowshoe and walking tracks.

In the new lodge, the fire always on, its warm and inviting. What more can you ask for after a fabulous day traversing a favorite trail through the pine and spruce forest?

With 1400 members, the KNC has season passes and activities for every age group. Angela Hurd, Kiosk Manager Co-ordinator, looks after volunteers who assist members and visitors with equipment rentals, season and day pass purchase, and wax supplies.

"We have an incredible volunteer base that does everything from maintenance and grooming to running the kiosk and work parties in the Spring and Fall to work on the trails," said Hurd. Rent a full ski package for only $25, and that includes the $15 drop-in day fee. A season pass, only $135.55.

The KNC's Jack Rabbit learn to Nordic ski program is for children 5 -7 years. Currently, 70 kids get out and participate every Sunday and Tuesday. "It's just great. They don't have far to fall, but they just get up and keep going."

The Junior racers, 8 – 12 yrs, the Nordic Racers, 13 to 18 yrs, and the Masters, 19 plus, are programs for recreational skiers all the way to race competitors. There is even a biathlon program. Added Hurd, "We offer completely free skiing for those over 80. The over 80 crowd is strong in this area. It's incredible to see people out and active."

The up-coming Annual New Years' Eve "candlelight ski" fund-raiser for the youth racing program is an event for the whole family. From 7 to 10 pm, the artificial lights on the night skiing loop (3.5 km) are turned off and replaced by lanterns and torches. Make a donation to the Nordic Racers and bring along a food bank item, or two. Hot chocolate and snacks at the lodge will keep you and the little ones warm and cozy. Finish the evening with fireworks next door at the ski hill.

The KNC selected POS-n-go to track sales in the Kiosk. Hurd has been training volunteers as they gear up for the season ahead. With only a few days working with POS-n-go, Hurd's said, "My daily cash out is easier."

KNC Kiosk volunteer Josie Schmidt first came across POS-n-go at Purcell Outdoors. "I think it's awesome. Working at Purcell was my first job in retail. It was my first system ever used. I thought it was super easy to use, super straight-forward, lots of options but clearly laid out. For my first time working in retail, I thought it worked really well. When Angela said we were getting POS-n-go I was super-stoked."

Team POS-n-go is super-stoked the Kimberley Nordic Club is part of our family.

Get complete KNC details at www.kimberleynordic.org. Email, info@kimberleynordic.org. Kiosk phone 250-427-9300. The latest snow conditions posted, @kimberleynordic.