I loved the business so much, I bought it!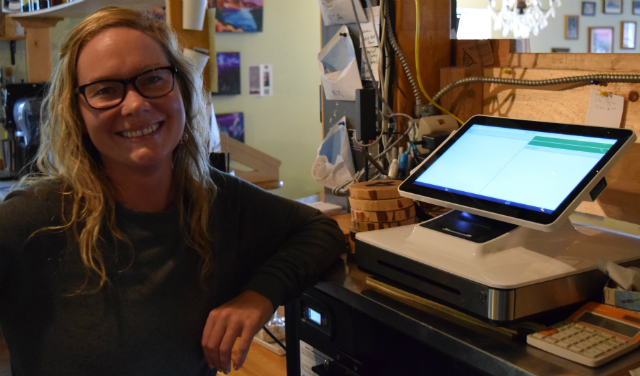 Having worked at Bean Tree Cafe for many years, Jenna Byrne took steps to buy the business when it came up For Sale. She closed the deal in early July. "I enjoy working here, so why not take that next step if I have the opportunity," said Byrne.

Knowing the Cafe would be a "hot commodity" as it has been a popular coffee shop for over 20 years, Byrne took the leap into being a cafe owner. She saw a lot of potential for it.

Her approach to owning the business, "I just want to keep it comfortable for everybody. Have fun and keep it very much for the locals."

The tasty delicious food is "all made in-house from scratch." Lunch time is busy as the home-made soup and sandwiches are "very popular."

She plans on sprucing up the interior with "brighter warmer colours, more art and more seating." In terms of food offerings, there will be "more grab and go items." This Fall and Winter look for daily feature dishes like stew, lasagna and chili.

Byrne opted for POS-n-go and the Elo PayPoint all-in-one POS machine.

In terms of POS-n-go, "I'm really enjoying it. Its super user friendly," said Byrne.

Impressed with over 70 Reports, she said, "I can be home making dinner and get a report to see what happened during the day."

As for training staff, "Its easy peasy, it only takes a couple of minutes to navigate."

Summing up POS-n-go, "Its great. Its awesome, I'd recommend it highly," said Byrne.

For coffee and so much more, be sure to stop by The Bean Tree Cafe, open seven days a week, 8am to 4pm. Located on the Platzl, Kimberley, B.C.