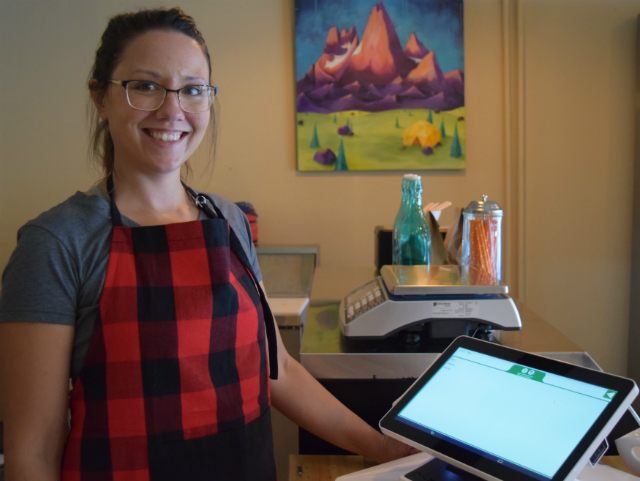 After growing up in Ottawa and spending a decade working in the Federal civil service, Jessica and Sascha Vogt made the trek west arriving in Kimberley in July 2018.

Having been out here every winter for the past 5 years on skiing/boarding vacations, the Vogt's decided to make this home because of a love for mountains, nature and trails.

"The people here are just incredible. I love the sense of community here. Everyone is so friendly and supportive," said Jessica. Another reason to put down roots.

When the Vogt's pulled into town with their food truck, The Grill Next Door, they started using J2 Ranch meat in their meals. The Wagyu beef tacos were a big hit.

In terms of cooking, "The food truck was my first foyer to actually working in food service. I had been an aspiring chef teaching myself for years before that."

How did a food truck turn into a retail bricks and mortar shop?

According to Jessica, "We were sitting down with J2 Ranch talking about recipes and how to utilize the whole cow and how to better sell their product. I suggested they open a shop in Kimberley. And, here we are."

J2 Ranch's Local Meat Shop is now open in the old Green Door location.

Located near Canal Flats, the J2 Ranch raises Wagyu beef along with Angus and bison.

Wagyu literally means, Japanese beef. "It's highly revered for its tenderness and marbling," explained Jessica. She added, "It takes 2.5 to 3 years for a Wagyu cow to reach maturity. So far, "Everyone is super excited about it. They've heard of it but never tried it, or they've tried it and they love it," said Jessica.

The retail store stocks almost 150 different Wagyu, Angus and Bison meat products. You can purchase by the piece or a whole animal, sides or quarters.

The Shop also stocks pre-made meals like Wagyu Bolognese and curry chicken. Quiche will be available this winter along with lasagna and shepherds pie, "good 'ol basic comfort foods."

In the months to come, a fine selection of locally made deli meats will be available. Jessica has plans to get "local producers selling products in the store including dry goods."

Jessica chose POS-n-go running on an all-in-one Elo PayPoint for the Shop's POS.

How is POS-n-go working out?

"Its been good, its worked for us for what we need it," said Jessica. Tech support has "been really good. We like the support."

Jessica found getting the inventory into the system straight-forward. "Its great, we can log-in at home. One night after work, we took our price list and entered them all in." It only took an hour or so to get 150 items into POS-n-go.

In terms of the sleek modern Elo PayPoint, "We get a lot of compliments on it."

Be sure to stop by J2 Ranch for Wagyu, Angus and Bison. A selection of prepared meals are also available along with a daily hot food special. J2 Ranch's Local Meat Shop located on the Platzl, Kimberley, BC.