Food Truck Flavour – Hot & Fresh!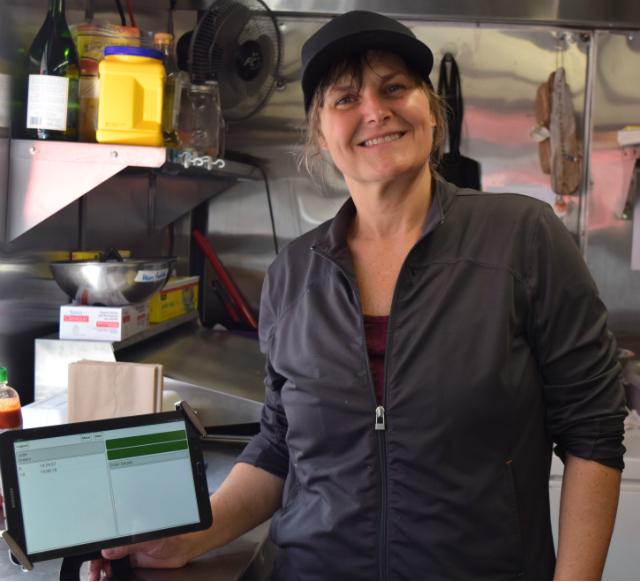 As if she didn't have enough on her plate, Julie St. Jean, Togs & Toys owner, decided to draw on her 30 years of experience as a chef in the catering and restaurant industry to open Julie's Cook Shack.

The food truck concept really appealed to her. However, instead of a truck she went with a food trailer.

She also spotted a market opportunity. "I want to help meet the needs of the community. Parents who need a quick meal while their running around after school and between sports before you get home at eight o'clock." She responded to the needs of busy parents and children. The Cook Shack is all about a fast healthy meal. "Something to grab on the way home."

Plus, working in a small space with a small menu keeps the operation tight and efficient.

On the menu side, the focus is on cooked from scratch healthy dishes. No canned, frozen or pre-packaged produce, meat, sauces and gravy here. Food is sourced from across Canada. Chicken from Heritage Farms, butter sauce from Mountain Range, potatoes from Alberta and curds from Montreal.

Curds! Yes, St. Jean has chosen poutine as a big part of the Cook Shack menu. Salads, wraps and potato fries round out the food options.

After living with her family in Kimberley for 15 years, she noted that poutine "wasn't really being offered in town."

While butter chicken poutine is a good seller, to St. Jean's surprise "the salads are out selling the Poutine. The Thai Beef salad is extremely popular."

So far, "The community has been really positive." St. Jean attributes "word of mouth" to the successful launch of the Cook Shack.

After many years as a successful Chef, caterer, even a Food Network cook, St. Jean has learned that to be an entrepreneur one has to "persevere."

"It's important to stay true to your own creativity and interests because the people that are interested in your interests will find you," she said.

St. Jean selected POS-n-go for the Cook Shack because "Its local, service is quick and convenient." When it came to learning how to use POS-n-go, she said, "Its super easy, really easy to use, very convenient."

Right now the Cook Shack, located in the parking lot next to Togs & Toys in Kimberley, BC, is open 11am to 7pm Monday to Saturday. St. Jean plans to stay open all winter. It may only be on weekends or limited hours, but if demand is there, then the Cook Shack will be open. Check it out!