Treat Yourself Well with Pie and Ice Cream!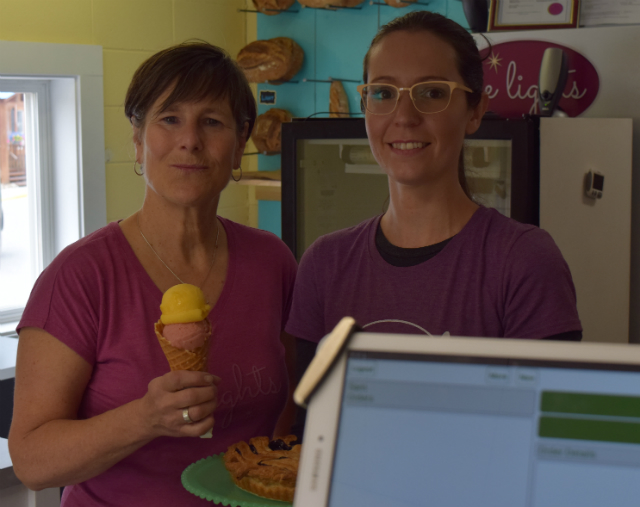 Erna Jensen, De-lights owner, provides high quality small batch gelato and frozen sweet treats.

Jensen's recipe for success. "Offer a high quality product with good ingredients that is delicious. And, provide exceptional customer service."

Treating customers "very well" became the springboard for a new venture at De-lights. "Providing in-house baking, pies and bread."

Jensen has joined forces with Bread and Butter Kimberely, run by Samantha Najarro & Dan McInnes.

Using part of the De-lights space, Najarro bakes pies, cookies, muffins and scones from scratch every day. McInnes, a trained Chef, mills organic grain into unbleached flour for fresh artisan bread. They use all organic ingredients, when available, and make butter using cream from Kootenay Meadows dairy. Najarro uses in-season local fruit encased in a butter crust for her pies.

"Pie and gelato or ice cream, what's not to like," Jensen said.

Buy a whole pie, or just a slice with ice cream. What a treat any day.

Jensen's been using POS-n-go since its inception. "Its been fantastic. From the get go the service is exceptional. Its worked well for us," she said. Adding, "The companies been great to work with." Jensen would "absolutely, 100%" recommend POS-n-go to other businesses looking to upgrade to a modern POS system.

For Najarro, a relative new POS-n-go user, "I find it really user friendly and intuitive to enter products" which change daily based on what is baked. One day muffins, the next scones. Pie varieties also change frequently. Adding products on the fly is an absolute necessity.

Check out the newest taste sensation in the centre of Kimberley, BC. De-lights and Bread & Butter.

Open daily at 9am. Friday, Saturday and Sunday until 9pm.