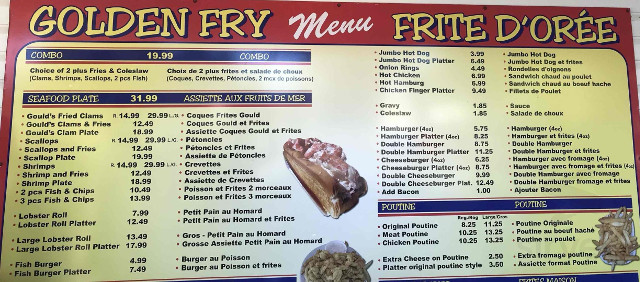 With over 30 years in the restaurant business, Dan Fournier grew up working in a restaurant owned by his parents. In 1988 he took over running it for the next 18 years.

Then in 2009 he bought Golden Fry. The current location on Main Street has been newly renovated inside and out. "We're happy with the results," said Fournier.

A sea food restaurant, Golden Fry serves up fried clams, shrimp and scallops. Don't forget the locally sourced lobster used in the daily special priced at $7.99. "Good pricing" is part of Golden Fry's success.

Fournier uses fresh cut locally grown potatoes, when in season, for their popular fries. He brings in curds from Quebec for poutine which is another favourite dish among local residents.

Fournier discovered POS-n-go through RKP Atlantic Business Service. He uses it to send orders to the kitchen and track sales, taxes and staff time. They selected the POS-n-go top selling all-in-one Elo PayPoint. The Elo PayPoint features a large 13.3" touch screen, cash drawer, receipt printer and customer display all in one elegant and small package.

If you get to Shediac, NB and are looking for a Maritime food experience, then check out Golden Fry. Eat in or take out.