Ice Cream, Kids and Family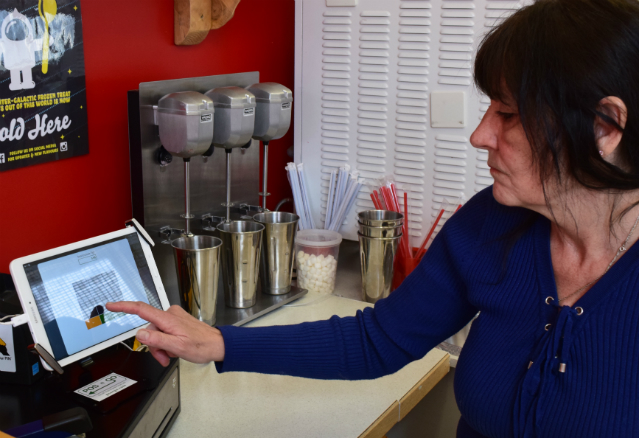 With a background in food service and hospitality, it was only a matter of time before Carol Stephens was able to open an ice cream shop "in the best location ever." When the original owners sold Lickity Split Ice Cream Shop, Stephens decided to buy, expand the hot menu and stay open year round.

Lickity Split, located on 304th Street across the street from Marysville Falls in Kimberley, BC is a family run business. Being close to the Falls is a perfect spot to attract tourists and those wishing for a smooth flavourful ice cream on a hot summer day. Be warned, it may take time to figure out which flavour(s) you select, there are 45 to choose from.

Stephens introduced home-made hot food including donairs, soups and chili to complement the hard ice cream, screamers, slushies and soft ice cream.

"I believe in quality ingredients and food," said Stephens. Its her only approach to cooking which extends to the exclusive use of Foothills Creamery ice cream, Cliff's Meats and Anthena donairs.

Widely known, Foothills Creamery celebrates its 50th anniversary this summer. "People stop by just for the ice cream. It sells itself," Stephens said.

The other important part of owning the shop is the "the social aspect. Meeting people from everywhere, from different parts of the world." And, children, "We love kids. This is definitely a kids place. I tell my staff you gotta love kids, and clean up after them."

After using POS-n-go for a year, Stephens said, "I love this system, it tells me everything I need to know." She uses the extensive reports to better understand daily and weekly sales patterns which allows her to better schedule staff. "POS-n-go is absolutely easy to use and train staff, it really is. And, tech support, amazing as well."

Be sure to stop by on Mother's Day, entertainment by a clown and takeaway a creative balloon design.

Right now the shop is open for lunch and dinner from 12noon to 7pm. Starting May long weekend, Lickity Split opens at 11am and closes after the last customer is served.

Its worth the trip to Lickity Split, take the few steps down from street level and enter into a world of cool sweet treats and fresh hot food.