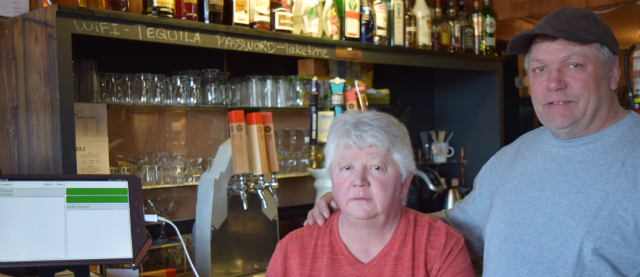 After years of running several companies in the North, then operating Mama's Pizza in Kimberley, Donna McKay and Ralph Vogel made their dream come true, living at Wasa. "We've always wanted to move out to Wasa," said Ralph.

Starting out as a commercial fisherman on Slave Lake at Yellowknife, Ralph progressed through owning, at different times, a drywall, construction and mining company, all in the territories.

Donna was born and raised in Kimberley, and spent "a lot of time out [at Wasa]."

In July 2018, they took over the Wasa Country Pub and Grill.

While the name currently has Pub in it, they have moved toward a family oriented eating establishment. Children are welcome from 11am to 10pm, daily. Friday and Saturday night the bar is open until 12 midnight, closed Monday and Tuesday.

"It's a good little business, but its a lot of work," said Donna. A key to success, "being friendly with the customers and getting along with everybody," said Ralph.

Having run a restaurant and pizza place before, "We knew what we were walking into," said Ralph. Donna added, "We're used to the long hours."

An updated menu along with the addition of home-made handcrafted pizza makes for great dining. Using all natural ingredients and preparing everything in-house, there is very little canned or prepackaged food. "Pretty well everything we do is homemade," said Ralph.

The dough for the pizza crust is made fresh from scratch each day. As well, you can expect the pie will have some heft to it because it's loaded with fresh toppings. "Give a pizza that has some weight to it," said Ralph. Donna makes the sauce in-house from her secret recipe.

They source all local products when in season. Buns baked fresh daily at the Ft. Steele bakery. The Overtime Brewery in Kimberly plus Fernie Brewing supply a tasty array of draft beers.

This spring, Ralph plans to install a horseshoe pit and possibly a bocce pit.

Delivery available soon on pizza and the whole menu, or takeout anytime.

The Wasa Country Pub uses POS-n-go running on a Samsung Galaxy tablet integrated with Nuvei payments for a quick and easy customer check out experience. The integration means payment and tip amounts are handled automatically and ensure POS-n-go and the payment terminal balance at the end of the day the first time, every time.

Summing up their approach to running the restaurant, Ralph said, "All home cooked food, family atmosphere and kids are welcome."

What more of an invitation do you need to visit the Wasa Country Pub & Grill, located on Larch Road along Highway 93/95 at Wasa, BC.