Hot Tubs and Future Opportunities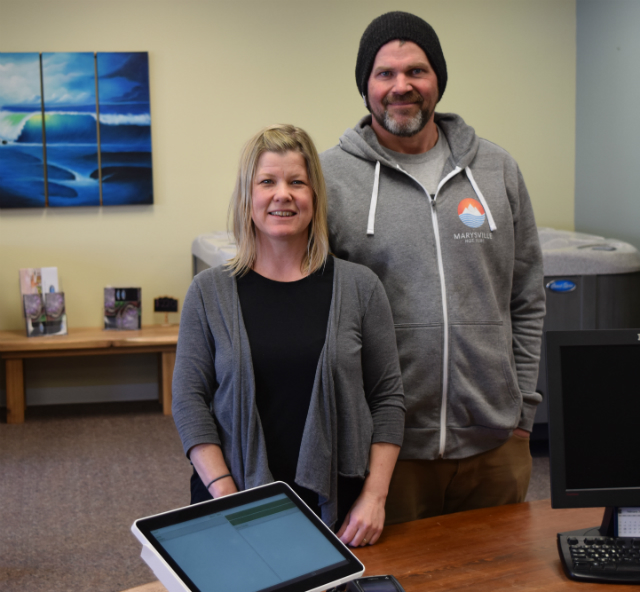 Seeing a market opportunity, Matt and Jena Ballard took the leap into business ownership. They recently purchased Marysville Hot Tubs. Being avid hot tubbers, it was a natural fit for them to buy the store and launch the next generation of outdoor living experience.

Hot tubs, accessories and service calls are not the only focus for the Ballard's. They plan to expand the business to include BBQs, indoor and outdoor fireplaces, patio heaters and possibly outdoor living furniture. "It made sense as something we should do and its needed in this town," said Matt.

Their expansion plans include building a new store across and kitty-corner from the current location that features a "unique design" by Tyee. They hope to be re-located by late October.

The Ballard's plan to provide a high level of customer service and after purchase support. "Keep everybody happy," said Matt. Supplying what people need in the outdoor living area is another integral part of their business approach. Listening to customers is at the core of that understanding.

In the immediate future, the Ballard's will stock BBQs and patio heaters along with state of the art hot tubs and high quality accessories including chemicals and filters.

Next steps after the move to new digs call for hiring WET certified installers so they can expand into indoor fireplaces.

Unique custom made fireplace mantles will feature concrete, finished wood and live edge designs. At some point, they may even provide "artwork for above fireplace mantles."

With a new logo and new website that's under construction, the Ballard's look forward to helping customers expand and enhance the outdoor living experience.

After learning about POS-n-go from Old Crow Emporium (a POS-n-go customer in Kimberley, BC), Matt and Jena selected POS-n-go as their POS system. "I wanted to stay local with a company I've heard good things about," said Matt. Over-all, "We're very happy with the system, its worked out very well."

The store uses a modern Elo PayPoint all-in-one touch screen system integrated with a Nuvei/Pivotal payment terminal. Their POS-n-go account includes the tools needed to customise the POS to their specific requirements and over 70 reports for understanding their business and financial performance.

Inventory control and customer management are two key features for Matt. The store has many "repeat customers" and the ability to track their purchases in detail is a "great help." "The customer base is definitely one of the best features," said Matt.

Head on over to Marysville Hot Tubs, have a chat with Matt and Jena, then check out the great clearance sale prices on 2018 models. You will find them at 417C 304th Avenue, Marysville, BC.