Freshest Fruit and Vegetables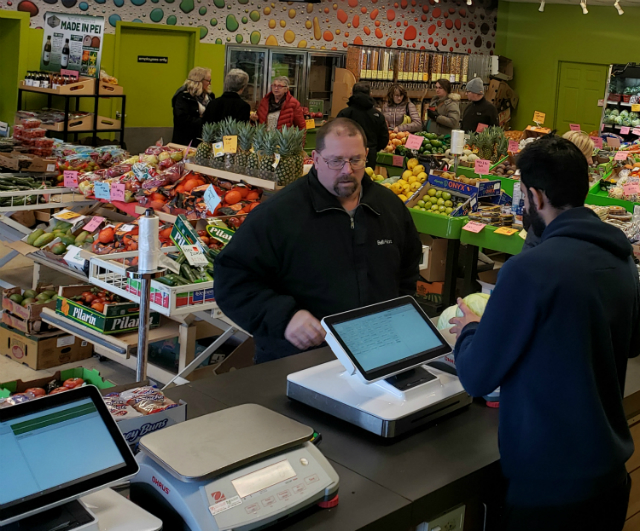 Seven years ago Burhan and Luba Kaboush began their small business journey by opening Mango Fresh Market in Charlottetown, PEI.

The local interest in international fruits and vegetables has increased along with the growing diversity of people moving to PEI.

Responding to this demand, the Kaboush's have opened a new store called Freshest Fruits and Vegetables.

The Kaboush's business philosophy is straight-forward, provide "consumers with good produce as fresh fruits and vegetables at good prices and high quality," said Luba.

An important part of the Kaboush's success is they "support local farmers" as well as making fruit and vegetables "affordable."

While the store carries all of the standard Canadian fruits and vegetables, the Kaboush's stock a wide range of international produce. In store, you will find lychee, jack fruit, big leaf aloe vera, yoka cassava, al madina and mazafati dates, kalamata spring figs, malanga islena taro (root), sugar cane, eddoes, jicama, maracuya and tamarillos.

A weekly flyer lays out the WOW deals that recently included apples, oranges and avocado's at 0.89/lb.

When shoppers like and share the flyer on social media along with "telling us what kind of food you can make from the food listed in the flyer", their name is placed in the contest box and if its drawn they win a $25 gift certificate.

Luba says it best, "When you support us you support your local farmers." She adds, "If your not supporting small local owned business, you're not growing your economy, your not creating jobs."

Freshest Fruits And Vegetables uses POS-n-go running on an Elo PayPoint all-in-one POS machine integrated with the Valor scale so that produce weight is automatically calculated and added to the customers order. Along with integration of Nuvei payment processing, the sales transaction is streamlined, fast and accurate.

For all your produce needs, check out Freshest Fruits And Vegetables on Capital Drive in Charlottetown, PEI.