A Container for Creativity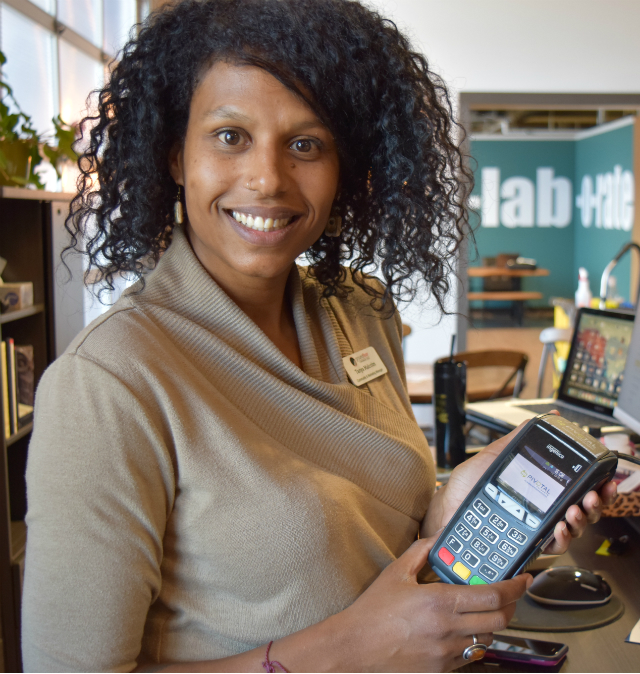 Looking for a place to rub shoulders with like minded professionals, grab a coffee and chat about the rigours of starting a company or working self-employed, then the Ground Floor Coworking Space is for you.

When arriving at Ground Floor you are met by Tanya Malcolm, Community & Marketing Manager, who makes sure members are looked after and the space meets their needs.

Ground Floor was founded as "a facility that supports entrepreneurs, freelancers, non-profit professionals and small growing companies who want to come together and make a big impact through their work with a coworking community," said Malcolm.

Traditionally, most people work for a company at their office building. If they decide to strike out on their own, they work from home. Ground Floor operates in-between those two situations providing a sleek modern space to work in and the opportunity to interact with other professionals. The ability to meet and chat with entrepreneurs creates a situation where "an informal conversation with somebody might lead to your next contract or project."

Malcolm added, "Why work alone. Share space, create opportunity, reduce risk and share resources." The space offers a coffee room, WIFI, administrative support, meeting rooms and a sound booth to take video calls or record a pobcast. Best of all, you have the chance to regularly "network with other entrepreneurs who are going through similar challenges that small businesses face."

Her energy and enthusiasm for helping people is evident when you meet Malcolm. "I really love being in a supportive role, encouraging small business and entrepreneurship," she said. "I can't say enough about the people I've met and work with here."

Beyond the work space, Ground Floor hosts Lunch and Learn on the 2nd and 4th Wednesday of each month from 12noon to 1:30pm. "From 12 to 12:30 is an informal networking opportunity, eat and great, bring your on lunch. Its all about entrepreneurship, small business growth and professional development," said Malcolm.

Each workshop session has "a great group of entrepreneurs who have skills and expertise in their sectors who are willing to share" what they've learned so you don't have to re-invent the wheel.

Ground Floor uses POS-n-go partner Pivotal Payments for credit and debit card processing. "I'm so happy to have a payment system to take drop-in payments. It's an amazing advantage for our businesses." During Lunch and Learn or other social events held at the space, Malcolm said, "Its been a wonderful experience so far to have that tap-and-go."

With coast to coast client volume POS-n-go has negotiated the lowest transaction processing rates in Canada with transparent Cost+ pricing (you know the processor margin), no contract, no setup fee, no cancel fee and no hidden fees.

To learn more about Ground Floor and try out a free day in the space, get in touch with Tanya Malcolm, 778-517-8800, or drop by 131 7th Ave. S. in Cranbrook.

Share Space, Create Opportunity & Accelerate Business!