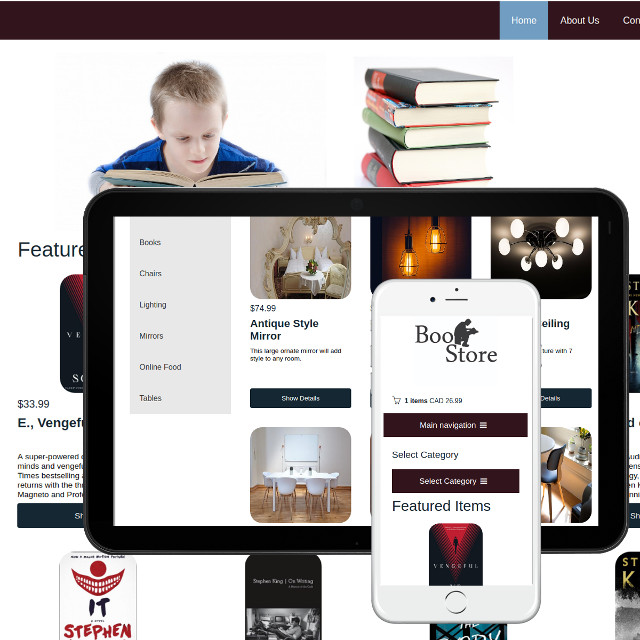 POS-n-go Solutions President, Richard Vienneau, announces a great new feature to the point-of-sale system, an Online Store.

"I am proud to say that we now have a built-in online web store that is fully integrated to your products, inventory and reporting," he said. This exciting new feature allows merchants to try out online shopping with only a minimal investment in time to set it up.

"The online web store is part of the subscription, there is no additional cost," said Vienneau. Think of it as a flexible easy to use shopping cart.

The fully customized online store allows you to sell all or some of the products listed in the stores inventory. You may only wish to offer a half-dozen items in the online store, or you can display all of them. Online store sales are posted against inventory and transactions are part of POS-n-go's extensive reports.

Vienneau added, "The online store uses the latest responsive layout technology to provide your customers with a streamlined checkout experience on mobile, tablet and PC devices." The online store automatically re-sizes to fit the device screen used by the customer. No more scrolling around the screen to see the contents.

The POS-n-go online store offers three access options. First, you can use the no cost posngo.com/shop/ domain location that is automatically loaded when you turn on the store. Second, you could purchase a domain name and have the online store appear at that internet location. Third, if you already have a web-site, you can have the POS-n-go online store included on your site.

The POS-n-go online store offers complete flexible customization. You select the colours, add your business logo, add an unlimited number of zoomable pictures along with a short product description. Additionally, you can have one front page banner or a number of rotating banners. The front page of the online store allows you to feature sale items. You also get pages to describe your business and list contact information.

When presenting your products, you can add in modifiers and upcharges. For example, a product has four different styles each with a different price. The POS-n-go online store provides the flexibility to list the various styles and their cost.

The online store will handle "free, fixed amount and real-time Canada Post shipping," said Vienneau. If you have a Canada Post shipping account, the POS-n-go online store will be able to show your customer exactly what the shipping cost will be.

As for payments, you have two options. Let the customer chose to order online then pick-up and pay in-store. Or, payment can be made by secure (PCI compliant) real-time online Stripe processing. Convenience for your customer is what POS-n-go is all about.

When it comes to presenting your online store, POS-n-go puts you in control with customizable features fully integrated with your products and inventory.

Call today for a free demo of the POS-n-go online store – 888-342-8882.

You are in the drivers seat with POS-n-go.