Jewelry Inspired by Nature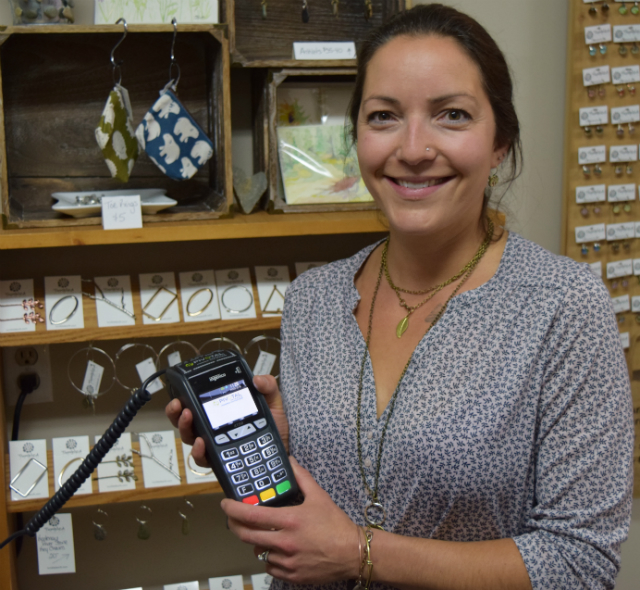 If you like the idea of handcrafted river stone jewelry, then you'll definitely like Kara Clarke's bohemian chic designs.

Inspired by her mother-in-law, who made jewelry as gifts for family and friends, Clarke started making jewelry ten-years ago. For the first few years, she purchased gem stones and lava rock to incorporate into her designs.

She and her husband moved to Kimberley six-years ago to raise a family. It was shortly after that when a friend took her to Kootenay River where she discovered river rock. "I found lots of flat naturally tumbled stones. I realized, what am I doing buying gem stones and rocks when there's these beautiful natural stones."

Shifting gears Clarke started Tumbled Earth and now focuses exclusively on river stone jewelry.

The Kootenay River is her only source of stones. "There's one beach with nice usable stones, I spend hours sifting through them to find the perfect ones," she said.

Each stone has to be flat and the "right thickness." She drills a hole through them to add the metal component. The stones "can't be too clunky and big for the jewelry."

While she crafts a range of necklaces, bracelets, anklets, ear-rings, finger rings, key chains and pins, a men's river stone collection with rings and cuff links is in the works.

"Lots of people tell me they don't wear jewelry, but they'll wear my jewelry because its minimalist, simple. It has an earthy feel."

Complimenting the river stone jewelry, Clarke also stocks items "you won't find in Kimberley like home-made greeting cards, soap from the Yahk Soap Company and body butter by Balm Girls." She provides "one stop shopping for men" to make it easy for them to assemble a gift package for any woman in their lives-wife, mother, daughter or girl-friend.

Clarke is extremely happy using Pivotal Payments as the credit and debit card processor.
"They were highly recommended by other merchants in Kimberley. It's so easy to use and rates are so good, so cheap and inexpensive." Another bonus, "I don't need high-speed internet," she said. Compared to the previous payment processor Clarke "easily saves $200/month." Unlike them, "Pivotal takes all credit and debit cards."

POS-n-go Solutions has negotiated with Pivotal to provide the lowest cost plus processing rates in Canada along with no contracts, no hidden fees, free set-up and cancel any time.

The Pivotal Payment terminal is fully integrated with the POS-n-go POS system which eliminates keying errors and increases transaction speed.

Tumbled Earth, 165 Wallinger Ave. in Kimberley, across the street from Veterans Memorial Park.