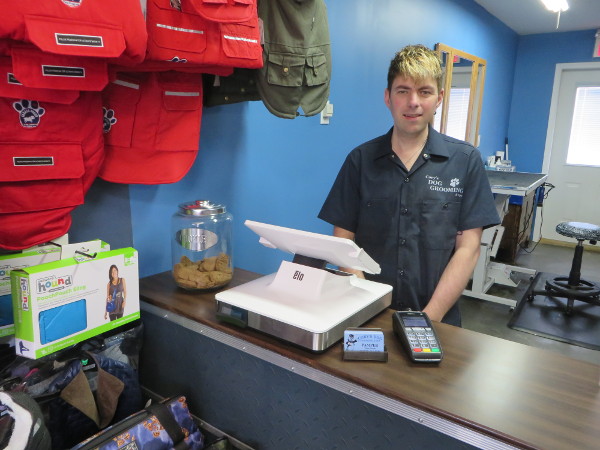 Cory's been a friend to dogs since he was a young lad growing up in Kimberley. Having his own dog grooming shop is a dream come true. For the past 17 years, he's been grooming dogs of all sizes, colours and breeds.

Cory's business philosophy is about providing a low stress environment for dogs while they're at the shop. He only books two or three dogs at a time in order to provide individual attention in order to keep them happy.

Nothing worse than coming home from time at the spa feeling stressed out because you were penned up with a dozen other dogs.

The grooming package includes a full therapeutic spa bath, blow dry, brushing, clipping, scissoring, styling, nail clipping, ear cleaning and finishing touches including colognes.

Cory uses oatmeal shampoo to help eliminate dry itchy skin. The pulsating water jet acts like a massage soothing achy muscles and joints.

After a cleansing shampoo, your dog gets a thorough rinse from head to toe. "It's important to get all of the soap out because leaving it in causes a dogs skin to become dry and itchy," said Cory.

The front of the shop has recently undergone renovations with the installation of a new floor and display furniture.

As for the future, there are plans to remodel the back of the shop to increase dog comfort.
"I am looking for ways to improve your visit and shopping experience. If there is anything you would like to see in the shop please let me know," Cory said.

Spring is always a busy time at the shop, Cory suggests "Book early, we don't want you to miss out on an appointment."

Pre-book a grooming or bath appointment 6 to 8 weeks in advance and receive a 5% discount.

Cory's been using the POS-n-go software for 3 years and just started using the new Elo PayPoint all-in-one. "I love it, its easy to use. The style and look is so modern, it goes with any decor in the store," he said.

During April, buy any Paul Mitchell product, including shampoos and conditioners, and get 10% off.