Responsive Email Receipts, The Perfect Marketing Tool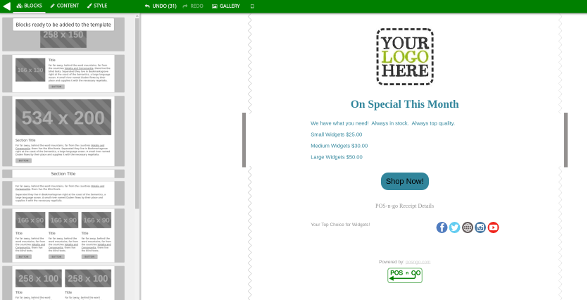 Put responsive emails to work for you! As more and more people use mobile devices such as phones and tablets for their daily tasks, email has to adapt to the technology. Enter responsive emails. The content of the email will adapt to the screen size to ensure that the reader has the best experience possible. Gone are microscopic, unreadable fonts and awkward scrolling.

POS-n-go is leading the POS industry by using responsive email technology combined with powerful and flexible receipt design tools to deliver YOUR message to YOUR customer. We provide the blank canvas, and a simple and intuitive tool to get your creative message across.

Add your logo. Add titles, rich content with images, links to your website, links to your online store, Facebook, Twitter, Instagram, Google+ and much, much more. Control colours, fonts and styles all with a simple click. How about that special next month? No worries. Add coupons, barcodes and QR codes.

Connect your in-store customer experience directly to your on-line world. Start today by sending your customers responsive POS-n-go email receipts!