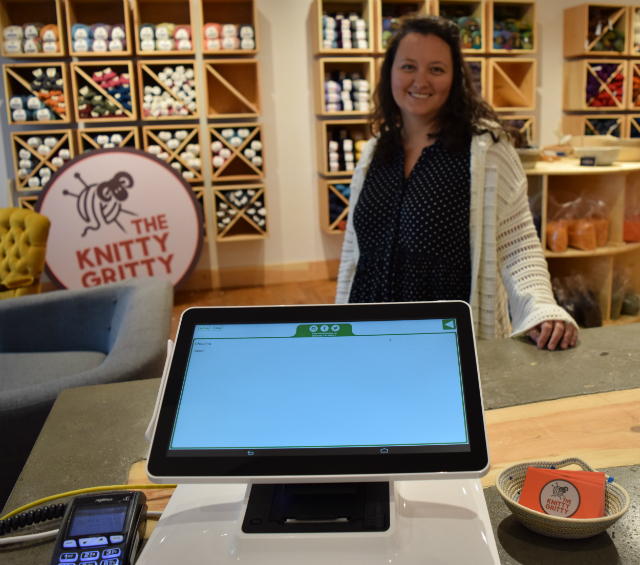 After traveling south from the Yukon four years ago, Christina Chalifour and her husband purchased a building in Kimberley.

Chalifour turned a life-long passion for knitting into her first store front business, The Knitty Gritty. When thinking about a name, she wanted something fun and catchy. Besides, it rhymes.

Regarding her interest in knitting, "I think its mostly the fibers. I'm attracted to the fibers, the colours and textures and making garments out of it. It's therapeutic and relaxing."

Chalifour wants The Knitty Gritty "to be a fun place where people come and get together to knit."

The shop is full of yarn in a wide variety of colours. She only stocks natural fibers like wool, linen, silk, bamboo and hemp. There will also be a yarn, brought in from Japan, that contains 15% stainless steel. How unique is that? "It helps shape garments," she said.

The yarn at The Knitty Gritty is sourced "from all over the place, South America, Peru, Ecuador and Italy." Canadian yarn includes Sweet Georgia, Sweet Paprika and Sugar Bush.

Do you have a specific colour of yarn in mind? Can't find it anywhere? Chalifour has the solution, "tailor make any colour of yarn." Custom hand-dyed yarn in any colour you can image, right here in the East Kootenay.

Besides fibers and yarns, the store carries a selection of high quality needles, crochet hooks and felting materials.

Chalifour plans to introduce monthly knitting workshops for all skill levels along with quilting workshops.

Like other POS-n-go users, Chalifour learned about it from other business owners. Her initial review of POS-n-go, "I really like it, very easy to learn and the HELP button is really great." She uses POS-n-go on the sleek modern all-in-one Elo PayPoint. One feature she found very easy is "inputting inventory. Its a really good way to learn the system," she said.

For everything Knitty and Gritty, check out the new store, now open at 203 Spokane Street, Kimberley, BC next to Paper & Cup, on the Platzl. Open 7 days a week, 11am to 6pm.